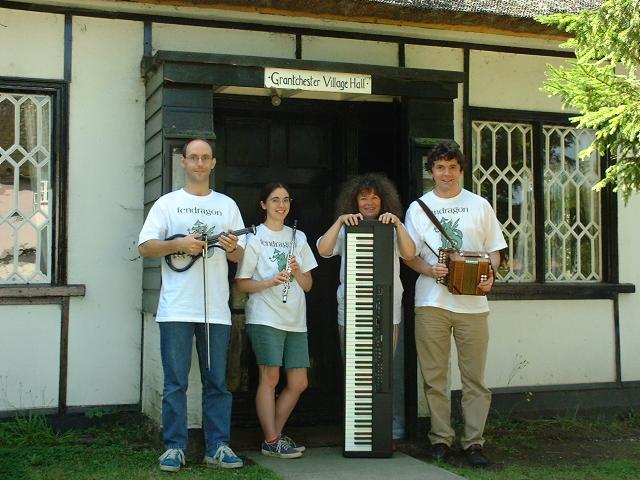 Fendragon
Fendragon are a ceilidh (or barn dance) band based in Cambridge, UK. Made up of four of Cambridgshire's top folk musicians with many years of folk dance and music experience behind us, we work with many of the best callers around. We play lively and very danceable music, mostly traditional English with some Irish, Scottish, French and American influences.
If you are thinking of having a barn dance or ceilidh for a wedding, birthday party, morris ale, anniversary, office party, fundraiser or any other excuse to have a good time, we are just what you need. contact us now!
We mostly play in Cambridgeshire and surrounding counties, but we can and do travel futher sometimes!
We are:
more
about the members of the band.
Dave Holland ... fiddle, hurdy gurdy
Gina Holland ... recorder, flute
Anahata ... melodeon, cello
Mary Humphreys ... keyboards, English concertina
"All of our friends and family had the most wonderful time and people are raving about the music and dancing - they want a ceilidh at every future event they can think of!"
"The whole evening was a tremendous success mainly thanks to the wonderful show put on by Fendragon."
"We had a SUPER time with you guys on Saturday at our party"
"Those that had been to ceilidhs before thought the way the caller explained the dances so simply and then quickly got everyone started dancing worked really well, and that the music was particularly good."
- see News and Quotes for more.